Hydraulic jaw crusher
Product Introduction:
  PEY series jaw crusher has the overload protection, and the rated load can be set casually. It can choose the suitable material to crash and do not deal improper material, so the "iron block" problem does not occur. It can work constantly without stopping the machine. The single hydraulic cylinder can adjust the size of the discharge port, and also can discharge the improper material after unloading. It is different from the double hydraulic cylinders, and it will not cause jaw segregation that can damage the equipment.
  Application:
self-equipped with hydraulic cylinder, PLC control system, mainly used for crashing metallurgical residue.
consultation
Immediate order
PRODUCT FEATURES
  Features:
  1. Simple structure and reliable design.
  2. It can remove overload failure automatically with its high automation.
  3. It is equipped with excellent self-protection system. The reacting time for hydraulic protection is very short and reliable. The production can be resumed without stop.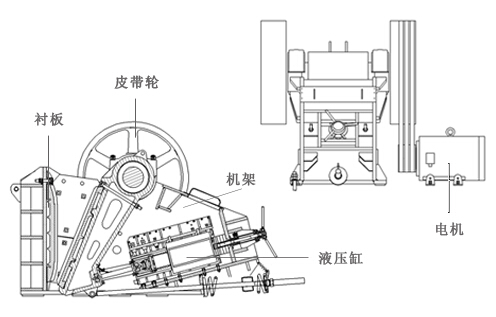 WORKING PRINCIPLE
 Working principle of overload protection device
  1.The fix jaw not moving is fixed on the inner wall of the crusher.
  2.The motor through the pulley drives the eccentric wheel, so as to drive the movable jaw plate
  to do the pendulum motion in order to crush the materials.
  3.The hydraulic cylinder piston rod is connected with the liner, and hinged with the spring pull
  rod at the lower part of movable jaw plate, this arrangement can determine the size of the
  discharging port and the crushed granularity. When the materials whose strength is
  exceeding the specified value are sent in the crushing chamber, the cylinder piston will retract
  quickly to enlarge the discharge port in order to discharge the materials more strength.
  4.After the materials of high strength are discharged automatically by their own weight, the
  hydraulic control system supplies immediately the oil to the right chamber of cylinder making
  the piston move left to the extreme position so to return the normal work.
TEHNICAL PARAMETERS
Product

Specification model(mm)

Throughput

Motor power(kw)

Spindle speed(r/min)

Row size

Maximum feed particle size

Equipment weight(t)

液压保护颚式破碎机

YH-PEY4060

15-38m³/h

45

300

40-90

330

9

YH-PEY6090

30-60m³/h

75

255

75-120

480

20

YH-PEY90106

180-280m³/h

110

250

230-340

700

36
ONLINE ORDERING
You can fill in the following form, the contact information and product needs to be submitted to us, we will contact you as soon as possible, thank you! In order to be able to get in touch with you in time, please be sure to fill in your contact information and requirement.
HENAN LUOYANG
Luoyang Yuhang Heavy Industries Co., Ltd.
Headquarters Address: Advanced Manufacturing Cluster Area, Luoyang, china.
Tel: 0379-62112728
0379-64237398
Post code: 471003
E-mail: mail@lyyhzg.com
Chinese official l website: Http://www.lyyhzg.com
English official website: www.yuhang-china.com