PL Vertical Impact Crusher
  Product Introduction:
PL Vertical Impact Crusher is developed by our company, which is the crusher operated through material to material and material to metal impacting. This equipment is widely used in manufactured sand processing of water conservancy and hydro-power, refractory materials, construction, high-grade highways and high road industries etc. and it has more advantages than other crushers especially for medium-hard, hard and corrosive materials such as granite, basalt, diabase and sandstone. It is superior to other crushers and the most ideal equipment for the manufactured sand processing at present.
  Suitable material: granite, basalt, diabase, sandstone, material with medium-hardness, ultra hardness and corrosion
  feeding size:30-60mm
  production capacity:24-715(t/h)
consultation
Immediate order
PRODUCT FEATURES
  Features:
  1. Its unique design of rotor and chamber enables the highest handling capacity, high rate of finished products and good shape of the products.
  2. Its special transmission system makes the machine running steadily at high speed.
  3. Its unique structure and material of wearing parts make the service life longer and operating cost lower.
  4. Its devices of automatic & hydraulic opening, lubrication, shock-proof, temperature control and timing sensor ensure the operation safe and easy.
  5. Its ingenious inner airflow self-circulation eliminates the dust dispersion.
WORKING PRINCIPLE
  Materials impact to materials: the materials fall down evenly from the upper part of equipment, one part of materials are fed in the high speed rotating impeller through distributor or feeding pipe, and thrown from the impeller under the high speed centrifugal force, then impact at high speed with the other materials which are fed also through distributor scattering around the impeller. After impacted each other, the materials form the vortex in the impeller and vortex chamber and repeat the impact crushing.
  Materials impact to metals: the materials fall down evenly from the upper part of equipment, enter into the high speed rotating impeller through feeding pipe, then thrown from the impeller under the high speed centrifugal force to impact and crush at high speed with adjustable liner or stick in the vortex chamber.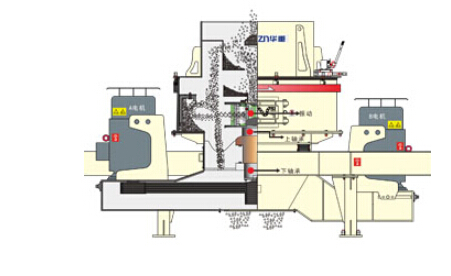 TEHNICAL PARAMETERS
| | | | | | |
| --- | --- | --- | --- | --- | --- |
| (Model) | (Max.Feed Size)(mm) | (Rotate Speed of Impeller) (r/min) | (Power)(kw) | (Throughput Capacity)(t/h) | (Outline Dimension L*W*H(mm) |
| YHPL-550 | 30 | 2258-2600 | 30-45 | 24-60 | 2550*1650*2380 |
| YHPL-700 | 35 | 1775-2050 | 55-110 | 55-120 | 3312*1840*2880 |
| YHPL-850 | 50 | 1460-1720 | 150-264 | 113-240 | 4700*2200*2850 |
| YHPL-1000 | 60 | 1242-1460 | 320-500 | 220-380 | 5060*2290*3700 |
| YHPL-1200 | 60 | 950-1150 | 500-630 | 300-715 | 5570*2660*3750 |
ONLINE ORDERING
You can fill in the following form, the contact information and product needs to be submitted to us, we will contact you as soon as possible, thank you! In order to be able to get in touch with you in time, please be sure to fill in your contact information and requirement.
HENAN LUOYANG
Luoyang Yuhang Heavy Industries Co., Ltd.
Headquarters Address: Advanced Manufacturing Cluster Area, Luoyang, china.
Tel: 0379-62112728
0379-64237398
Post code: 471003
E-mail: mail@lyyhzg.com
Chinese official l website: Http://www.lyyhzg.com
English official website: www.yuhang-china.com